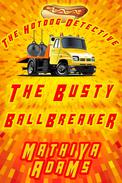 The Busty Ballbreaker
The Hot Dog Detective - A Denver Detective Cozy Mystery, #2
by Mathiya Adams
Publisher: Misque Press
Product Description:
Hot dog vendor Mark MacFarland – "Mac" to his friends – is suspicious when a young construction worker, Wanda Warren, approaches him with a tale of conspiracy, fraud, and murder. A friend of hers died in a tragic work accident, but she thinks that there is more to the story than workplace tragedy. She thinks he was killed to keep him quiet.
MacFarland is not so sure. He is initially convinced that the woman is part of an elaborate April Fool's joke, being played on him by his former co-workers in the Denver Police Department. However, when the man supposedly responsible for the accident is seriously hurt in a hit and run auto accident, MacFarland becomes convinced that Wanda is right. Something is not right at the construction site just down the block from him. The question for MacFarland is, how many more people are going to get killed before he finds the person behind the conspiracy that Wanda has uncovered?
This is Book 2 in The Hot Dog Detective series - a cozy mystery with an amateur sleuth. This is a 70,000 words novel.