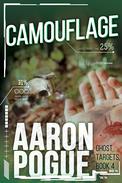 Camouflage
Ghost Targets, #4
by Aaron Pogue
Publisher: Masked Fox Productions
Product Description:
We abandoned privacy and turned databases into something like gods. They listened to our prayers. They met our needs and blessed us with new riches. They watched over us, protected us, and punished the wicked. We almost made a paradise.
But there were still places the system could not see. Heading into the high mountains and deep woods was like stepping back in time, to an era where archives were incomplete and untrustworthy. Now a new threat has taken root in the cracks, threatening to expand the already dangerous gaps. Somewhere in remote West Virginia, where the databases' all-seeing eye sometimes falters, a sheriff is murdered and only the FBI's Ghost Targets team can track down the killers.
Saddled with a new partner she doesn't trust, Katie Pratt finds herself in a town whose archive is as full of holes as the people are full of mistrust for federal agents. Trapped in a community of petty criminals, Katie becomes the hunted. Now this city girl must fight to survive in a wilderness without Hathor.
Camouflage is the fourth book in the Ghost Targets series. Approximately 75,000 words.