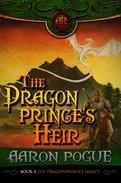 The Dragonprince's Heir
The Dragonprince's Legacy, #4
by Aaron Pogue
Publisher: Masked Fox Productions
Product Description:
The dragonswarm is ended. Fifteen years after Daven Carrickson rebuilt legendary Palmagnes, the civilization of man is once again safe from the monsters' menace. But the long years have taken their toll. The Dragonprince is ten years missing, mighty cities still lie in smoldering ruins, and the kingdom of the Sarianne is broken. Hoping to rebuild his old dominion, the jealous king now brings an army to the Tower's very gates. And whom should he find waiting but the Dragonprince's son?
Born in cataclysm and brought up in the sheltered comfort of Daven's stronghold, fourteen-year-old Taryn remembers little of his father and knows even less of the world. But Taryn knows what he is owed. He demands the king respect him as the Dragonprince's heir...and quickly learns how vulnerable his family is without Daven to protect them.
Dragged off with his mother as a hostage to the king, Taryn comes to understand that his pride imperils everything his parents sacrificed to build. To redeem their legacy, he must forge a new path for himself.
On his own, Taryn will learn that being a hero means enduring much hardship. He will learn that his heritage brings grave responsibilities. He will learn what it means to be his father's son. But he has to do it fast, or he will lose his mother...forever.
The Dragonprince's Heir is the final book in the Dragonprince's Legacy.