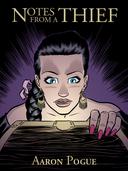 Notes from a Thief
Auric's Valiants
by Aaron Pogue
Publisher: Masked Fox Productions
Product Description:
Lady Bianca Jane of the Waters is a daughter of the second noblest house in all of rich Ithale. She's wealthy and well-respected, and she's a thief.
It started as a game, became a challenge, and now it's an obsession. She needs to get it right, to prove she's good enough, but every time she tries, he gets there first.
And all she finds are helpful little notes.
In the world of Auric Truefaith, tyrant gods reign over the civilized and prosperous nation-states of Hurope. But there's a new wind blowing, as warriors and wizards take a stand for liberty.
A war is coming, and those who'd stand against the gods must become more than legends.
"Notes from a Thief" is a World of Auric short story featuring Lady Jane. Approximately 5,000 words.