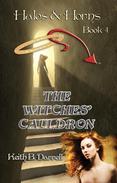 The Witches' Cauldron
Halos & Horns, #4
by Keith B. Darrell
Publisher: Amber Book Company
Product Description:
Picking up where To Hell in a Handbasket left off, the fourth installment of the Halos & Horns fantasy series finds the angel Gabriel and the demon Asmodeus fighting for their lives against usurper Baphomet and his demonic horde in his bid to take dominion of Hell; Lucifer brought for judgment before the Eternals for the murder of Cholestra, keeper of the Sands of Time; and the witch Samantha Twitch joining forces with her sisters Drusilla and Calliope against the sorceress supreme Morgana le Fay and her Dark Fae minions. Will teen witch Emma regret her decision to stand by the changeling Damien? Can Damien find a way to halt his rapid aging? Will the critically injured Detective Mordecai survive? And if not, will he take the secret of his daughters to the grave?
An attack on Nosferatu, Inc.'s Japanese headquarters by the ancient vampiric demons known as the Empusae not only threatens Lady Chiyoko's territory, but will change the young hypnalis Kaya's life forever. Meanwhile, one character must journey back in time to 17th century Salem in search of the secret to defeating Morgana le Fay. But what other secrets does the Salem coven hold? No one is safe. As the Halos & Horns saga draws to its conclusion, who will survive?