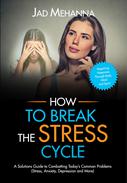 How to break the Stress cycle
by Jad Mehanna
Product Description:
In our lives, we are born into a physical body. We go through life not knowing that a second birth, a spiritual birth, awaits us.In a world full of stress, conflict, and chaos, trying to find a balance between mind, body, and the spiritual can be a difficult journey. Let me help you.
I wrote this book as a guide on how to balance your mind and body and find your spiritual self.My advice and tips are simple to follow and incorporate into your routine.
My guide can be useful in helping you Break the Stress Cycle, by understanding its roots and applying solutions to all 3 pillars, Body, Mind, Soul, .
Dr. Jad Mehanna is a Music Composer, psychologist, Mentor/Life & Health Coach, and a seeker.He is known for his ethnic and world music.For the first time, Jad writes about his experiences, learning, and personal transformation, driven by his love of humanity and compassion.After Composing over 2000 successful musical pieces, He decides to explore the mysterious light that brought us all here through coaching, psychology and spirituality.
www.jadmehanna.com
~~~~~~~~~~~~~~~~~~~~~~~~~~~~~