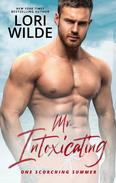 Mr. Intoxicating
One Scorching Summer, #2
by Lori Wilde
Publisher: Epiphany Orchards Press
Product Description:
Are you looking for a steamy romantic read?
Mr. Intoxicating is the perfect novel for anyone who loves to get lost in an intense love story. Join billionaire Wyatt DeSalme as his family sends him to idyll Island as a corporate spy, where he finds himself irresistibly drawn to Kiara Romano, the gorgeous owner of Bella Notte Vineyard. As they learn more about each other, their connection grows stronger and can't be denied.
Will Wyatt manage to win Kiara's trust and convince her that his feelings are real? Or will past grievances stand in the way of their happily ever after? With its fiercely passionate characters and intense romance set against a beautiful backdrop, this book will leave readers breathless until its very end!
Get your copy of Mr. Intoxicating today!