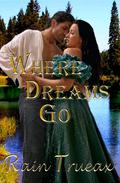 Where Dreams Go
Oregon Historicals, #2
by Rain Trueax
Publisher: Seven Oaks
Product Description:
He had long loved her, a secret impossible love. At lonely campfires across the west, where death waited in the shadows, he had dreamed of her. Then word arrived that what had been impossible was no longer. When he came to convince her to be his own, she put up barriers. He could overcome those. Could he overcome the greatest of all—who he was?
Oregon Territory held many dangers; but the one that killed Martha Stevens' beloved husband struck without warning on the most mundane of days. She has been forced to live alone, to make a life on her homestead, one that is purposeful, oriented to her family. Her expectations do not include a man coming into that life, who like a tornado upturns her expectations and all she has known. What this wild man wants is impossible. Or is it?
Where Dreams Go is set in 1855's Oregon Territory where these new pioneers must learn skills needed to build a state. Building a new world isn't for the weak. Dangers are always there for those who dare to walk the high places.
Can we live our dreams—or is the cost too high?