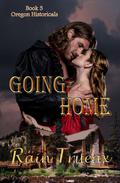 Going Home
Oregon Historicals, #3
by Rain Trueax
Publisher: Seven Oaks
Product Description:
It's 1865 and the Civil War has just come to an agonizing end-- even impacting far off Oregon with its destructive divisiveness.
With a loving family, successful businesses, and active theater life, Raine Stevens has all she could want except a love of her own. She prefers life without the sacrifices that kind of love requires. Only one man has ever tempted her to believe otherwise, and he went off to fight the war. He left and never wrote.
And then, Jed Hardman is back, but it's too late for them. She won't leave Portland for a wilderness ranch on the John Day River. She's worked too hard for what she has. Besides, he's way too much the laird in the way he dominates all around him. She sends him off with no hope for a future together.
After Raine learns her seemingly successful life has been more trap than what she thought, she decides to leave Portland also. She could go many places, but the only one that will help her find out if she and Jed have a future is the Hardman Ranch. Jed is grateful to have Raine come to him and accepts her terms, adding one of his own.
Leaving the war apparently hasn't made his life safer. He now has a deadly enemy—more than one.
Book 3 in the Oregon series follows the Stevens family (Raine isn't the only one finding a reason to head east of the Cascades). It is about what makes a home and family. What does it take to make a relationship work when it has every reason not to succeed? With gold miners, road agents, and Native Americans determined to push the white man from their land, this wilderness requires strong men and women to tame it. Raine isn't sure she can qualify, but she's about to find out.
Going Home contains some strong language, violence, and sexual heat. It is intended for mature readers. Heat level: ♥♥♥♥ (with ♥ least and ♥♥♥♥♥ most)