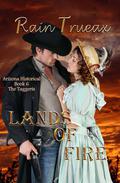 Lands of Fire: The Taggerts
Arizona Historicals, #6
by Rain Trueax
Publisher: Seven Oaks
Product Description:
Moving to Tucson and living in Rose's Cottage provides a wellspring of inspiration for Lily Jacobs' art. It also helped her avoid a man in Chicago, who was threatening with his unwelcome attentions. After years of doing her father's bidding, Lily is now a woman of means, free to choose her own path. When famous painter, Patrick Jamison arrives in Tucson, Lily is eager to take lessons and improve her work. She isn't looking for love.
Slow from birth, Jesse Taggert lives on the desert as he trains horses and works for a large ranch. Jesse knows animals and finds the further he is from people, the better—especially beautiful woman, but how can he refuse his brother's request that he teach his sister-in-law, Lily, how to ride the horse he has trained?
Once these two meet, sparks fly. A woman like Lily would never want a man like Jesse, someone who can't even read. If that hasn't been enough reason to avoid her, the dangers his father is bringing onto him will be. Lily isn't listening. She sees things in Jesse he does not see in himself. Some loves are worth fighting to hold onto.
Set in Tucson Arizona with familiar characters from earlier Arizona historicals, Lands of Fire is a love story not only of two people but also of the desert. Danger walks with this land, but the passion it stirs can make it all worthwhile—if one survives.
68,100 words,, Heat level 4