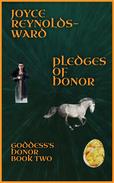 Pledges of Honor
Goddess's Honor, #2
by Joyce Reynolds-Ward
Product Description:
SHE WASN'T SUPPOSED TO BE THERE....

An accident placed Katerin Healer in the village of Wickmasa when Wickmasa's healer Makri killed himself after his magic-gifted horse proved to be contaminated by an enemy.
Katerin only plans to stay in Wickmasa until the spring, when Wickmasa's new Healer can return from training.
BUT....
Things keep happening in the secrets-laden village.
And now, along with her new love Metkyi, Katerin finds herself as part of a team set to overthrow a corrupt leader and replace him with his estranged daughter Rekaré.
Will they succeed? Will Katerin and Metkyi have a future?
Or do the Seven Crowned Gods have other plans?
Note: This edition includes the short stories "Return to Wickmasa" and "Crown Anniversary," previously published.