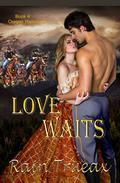 Love Waits
Oregon Historicals, #4
by Rain Trueax
Publisher: Seven Oaks
Product Description:
As a Pinkerton agent, Belle Stevens Morgan has led an adventurous life, far from her beloved family. On assignment in Oregon to investigate counterfeiting, she is posing as a governess in the employ of a wealthy and ruthless man. Lies are her stock in trade. To her regret, she has never forgotten the young cavalry officer, who rejected her love when she was seventeen. Meeting him again, in the midst of an Indian attack, she fears she still loves him and to no more avail than ten years earlier.
Captain Rand Phillips is asked to take on one of his most dangerous assignments regarding an attempt to start a new rebellion, with the Civil War barely over and the country still in turmoil. The biggest danger of all, however, may be to his heart as he sees the woman Belle has grown to be. He pushed her away when she was little more than a girl. It won't be so easy this time—especially since she may be his one hope for survival.
When two warriors meet, with secrets between them, danger is bound to be in the mix. Sometimes to win, one must risk it all. Book Four in the Oregon Historical series, with characters from the earlier romances, Love Waits is about a love that is strong enough to wait for its time—and fight for its fulfillment.
104,500 words, Heat Level 4