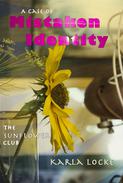 A Case of Mistaken Identity
The Sunflower Gang
by Karla Locke
Product Description:
You are never too old for murder and romance.

When crime thriller novelist, Diana Crumm, moves her mother into the Sunflower Retirement Community little did Diana know what havoc her mother and the Sunflower Gang would cause. With a deadline looming Diana just wants to focus on her latest novel, instead her mom convinces her to bust Marge out of jail. Marge was charged with the murder of her dead husband—a modern day Senior Casanova.

The question is—Did Marge do it? Or was it a jealous husband? When you play the field, no matter the age, beware of the consequences, it can be deadly.

Enjoy a little romance, a little murder, a little mayhem in this witty story of Diana and her mom.