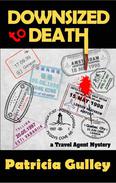 Downsized to Death
by Patricia Gulley
Product Description:
In 2001, branch manager of a national travel company, Prudence Peters' demotion is not the only bad news that begins a week from hell. Offices will close, there will be lay-offs, making more work for the remaining agents, and no more raises. But one of Pru's agents is fired.
Pru arrives at her office the following Monday to find a police detective waiting for her. Her supervisor has been murdered, and the agent she fired has disappeared. Fearing the missing agent will be blamed for the murder, Pru sets out to find her, but everything she discovers laps over into the murder case. Head office in Atlanta claims they authorized no firings and fears for their reputation puts all the offices in Oregon in jeopardy. Suddenly, Pru must find a killer to save her life, her office and her job.