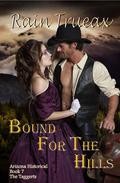 Bound For The Hills
Arizona Historicals, #7
by Rain Trueax
Publisher: Seven Oaks
Product Description:
The "Last Taggert"
Needing new inspiration, answers to a mystery, and healing from the death of her father, English professor, Wilhelmina Butler heads for a log cabin in the high country of Arizona. In the Mazatzals, Willy hopes to write the great American novel, something she can be proud of, unlike the very successful dime novels she has been publishing under a pseudonym. The lake cabin will give her all she could ever dream and a lot more.
Asked by his worried sister-in-law, Holly, to check on her college friend, Cole Taggert assumes her friend is a naive idiot to head into the wilderness with little idea how to survive its dangers. Then he sees her swimming in the lake, and Willy's life isn't the only one about to get redirected.
Bound for the Hills travels from the Mazatzals to Tucson and explores not only the land but the human heart. It brings together the Taggert brothers as they face a deadly enemy, and their women work to build the kind of life where their children can grow up safer than their fathers did.
Spicy with some violence and strong language, Bound for the Hills is the seventh Arizona historical, a love story for the 'Last' Taggert.
111,200 words