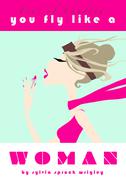 You Fly Like a Woman
by Sylvia Wrigley
Product Description:
Getting a pilot's license was the furthest thing from her mind - until an ex-RAF instructor suggested that she wasn't competent to do so. The thing is, he could be right. Sylvia has just a few weeks to prove that she can fly as well as any man.
You Fly Like a Woman tells the story of one woman's search for confidence as she stumbles into a man's world.