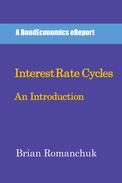 Interest Rate Cycles: An Introduction
by Brian Romanchuk
Product Description:
Monetary policy has increasingly become the focus of economists and investors. This report describes the factors driving interest rates across the economic cycle. Written by an experienced fixed income analyst, it explains in straightforward terms the theory that lies behind central bank thinking. Although monetary theory appears complex and highly mathematical, the text explains how decisions still end up being based upon qualitative views about the state of the economy.
The text makes heavy use of charts of historical data to illustrate economic concepts and modern monetary history. The report is informal, but contains references and suggestions for further reading.
This is the second report published by BondEconomics.