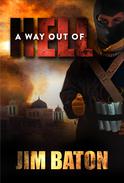 A Way Out of Hell
Peace Trilogy, #2
by Jim Baton
Product Description:
**Winner of 2017 Book of the Year (Interviews & Reviews)**
**2017 Illumination Award Winner**
**2017 eLit Award Winner**
When ISIS turns your city into a living hell...
ISIS unleashes a reign of terror across Indonesia. As a former jihadist, Abdullah knows all too well the high cost and absolute ineffectiveness of fighting such violence with violence. He accepts the impossible challenge of finding the ISIS cell hidden in his city, and disbanding it non-violently. But time is running out, and there may not be any city left to save.
Meanwhile, he has to protect his adopted daughter Sari, a Christian university student, who is one of ISIS's targets. Together they come face-to-face with the holy warriors of mass destruction and strive to overcome that evil with good.
In this riveting sequel to Someone Has to Die, Jim Baton introduces us to the real people caught in the web of terrorism, with their wide variety of backgrounds and motivations, and the possibility that they, too, can change.
"[Jim Baton's] writing is stellar, the story riveting and excruciating and occasionally embarrassingly true when Baton showcases who is willing to risk peace at all costs and who doubts it can be done. This is the ultimate lesson in meeting extreme prejudice head-on and refusing to blink. Baton makes me believe."
Lisa J. Lickel, author of Understory and Innocents Pray