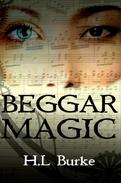 Beggar Magic
by H. L. Burke
Product Description:
In Gelia City, magic is music – a constant, ever-changing melody known as the Strains. All can hear the Strains…but not everyone can use them equally.
Leilani is Common, able to do only the most mundane "beggar magic," but when she befriends the gifted Highmost girl, Zebedy, she is swept into the gilded world of the upper class, who can access the magic's full potential. Behind the polished, academic façade of the Highmost manors, the girls run headlong into danger. An unknown force is consuming the Strains, leaving heartrending silence behind. Desperate to save their beloved Strains, Leilani and Zebedy soon realize that solving the mystery may cost them their friendship, or even their lives.