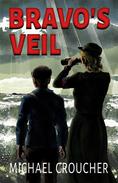 Bravo's Veil
by Michael Croucher
Product Description:
.

Why did his 12-year old brother Paul leave his wartime billet in Cornwall on a cold December night and disappear? What part did local billeting officials and his billeting family play in the mystery? Why did a young constable and a pretty librarian nearly drown on the same night, yards from where his brother was last seen, and why did the young couple leave Cornwall in secrecy? Above all, what kept the truth about his brother's fate hidden for decades?
David Collins wants answers. He finds important clues among his brother's keepsakes, in an envelope that had been packed away for years. The emotional investigation that David initiates serves up many surprises. But one extraordinary and disturbing secret shocks him to his core, and changes his life forever.