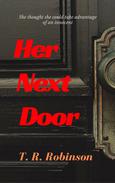 Her Next Door
Bitches, #1
by T. R. Robinson
Product Description:
Have you ever moved house and wondered what the neighbours will be like? Will they be friends or enemies?
Tara found herself in that exact position when she excitedly unlocked the door to her first new home.
At first Sharon's smiling facade indicates friendliness but behind it lies an evil woman who is willing to use any means, drugs, alcohol, sex, and anyone, to get what she wants.
Tara's naive, innocent nature makes her no match for the manipulative woman.
Buy Now to read the full story and see what happens.