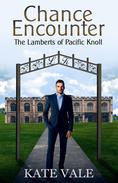 Chance Encounter
The Lamberts of Pacific Knoll, #1
by Kate Vale
Product Description:
When Alexis McCord's abusive boyfriend is arrested, she seizes the opportunity to escape with her young son. Now she and 5-year-old Chance are building a life in the tiny, remote beach town of Sandy Reach, Washington. Lexi is even acting on her dream of becoming a baker with her own shop—if only Hugh never finds her.
Fletcher Lambert, distraught after the death of his wife and baby daughter, Sandy Reach is a handy place to escape his memories, away from his law office and his large, well-intentioned but intrusive family, who are watching and waiting for him to move on. He's not sure that will ever happen.
Then Fletcher meets Chance. When he learned that the waitress serving him at Omar's pub is the boy's mother, sparks fly in in spite of his intentions never to get close to a woman again. Lexi feels them, too, but her mistrust of men forces her to ignore Chance when he declares that Fletcher would make the perfect dad. After all, who listens to a five-year-old in the midst of all this grown-up angst?