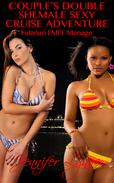 Couple's Double Shemale Sexy Cruise Adventure: Futanari FMFF Ménage
The Shemale Series
by Jennifer Lynne
Publisher: JLE Publishing
Product Description:
Todd and Kelly book on an anything-goes, sexy cruise and are - as always - on the lookout for hot shemales to indulge in their mutual love of futanari action.
On their last night of the cruise, they meet up with Kimber and Stephanie - a pair of stunning, naked shemale friends - in the on board hot tub and the four indulge in some incredibly hot futa playtimes!
At first Kelly joins in with the sexy fun, but once the hot scene gets going, she decides to sit back, pleasure herself and watch her hot husband as he enjoys the t-girls.
8,000 words of incredibly hot futa-on male, futa-on-female and group transgender action.