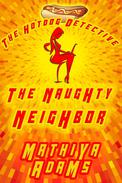 The Naughty Neighbor
The Hot Dog Detective (A Denver Detective Cozy Mystery), #14
by Mathiya Adams
Publisher: Misque Press
Product Description:
"Benny and I are going to continue our investigation in the murder we're working on," said Detective Pierson.
"She was murdered in her home? Were there any witnesses?"
"Oh," smiled Pierson, "I would say so. There were probably seventy thousand witnesses."
The victim was Cloe Murphy, an internet porn star had over 70,000 fans, most of whom had the misfortune of seeing her brutal murder during Cloe's internet podcast. The most likely suspect is the estranged husband Toby who discovered his wife's body. The weapon has his prints on it, and neighbors report that they've heard heated words between the couple.
But is he the killer? Or did one of her subscribers want to make sure she didn't share herself with anyone else?
Jerry Baker asks MacFarland to look into the young porn star's death, and it quickly becomes apparent that there was more to Cloe Murphy's death than meets the eye.
The Naughty Neighbor is the fourteenth book in the Hot Dog Detective series. Each book can be read independently, but if you want to read them in order, just follow the alphabet.