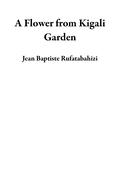 A Flower from Kigali Garden
by Jean Baptiste Rufatabahizi
Product Description:
: Denise Uwanyuze is a wonderful young lady who is conflict with her jailed husband, corrupt prosecuting magistrates and different lovers.
Eager to get her husband out of jail, Denise corrupts prosecuting magistrates through money and sex.
Before Wilson gets released, Denise's best friend unexpectedly reveals to her that her husband committed adultery with three different women, including two whores, two months before he got jailed.
Liberated, the unfaithful husband asks for pardon; Denise forgives him and makes love with him at once.