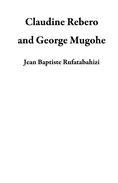 Claudine Rebero and George Mugohe
by Jean Baptiste Rufatabahizi
Product Description:
George Mugohe is an elementary school teacher who is in conflict with his kin ghosts, including his first wonderful wife's ghost, and his bride Claudine Rebero.
When he refuses to betrayal his Christian faith by honoring his kin ghosts, George pays for it; his wife Caroline becomes mad and dies.
Diviners and his wife's ghost intervene and advise George to offer a cow to his kin ghosts on behalf of his dead great-grandfather if he wants to get a new wife. He refuses and instead marries Claudine Rebero against his kin ghosts' wishes. As a punishment, he is unable to make love to his second wife.
When Claudine abandons her husband, George changes his mind and honors his kin ghosts as advised. The couple reconciles and Claudine returns home.
To publicly thank Almighty God, George and Claudine pay for a special mass. Unknown to the invited guests, high-ranking angels, famous ghosts, and George's kin ghosts all attend the service. An angel then visits the couple to tell them their wonderful future.