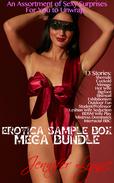 Erotica Sample Box Mega Bundle: 13 Stories
Sample box, #1
by Jennifer Lynne
Publisher: JLE Publishing
Product Description:
An erotic cornucopia containing a varied mix of 13 red hot short stories of the most breath-taking and adventurous kinks, fetishes and desires.
Pick out your favorites, indulge yourself in something new, but above all, enjoy immersing yourself within the 100,000+ words of the most stimulating erotic literature available.
There's - literally - something for everyone; so, what's your desire?
Your 13 Stories:
SHEMALE: Couple's Double Shemale Sexy Cruise Adventure
BDSM WIFE PLAY: My Wife Undressed For Dinner
MISTRESS AND SUB: Dominated by Mistress Xtina Strict
CUCKOLD: Cuckolding my Husband
GANGBANG/MÉNAGE: My Very Public Ménage
HOT WIFE: Hot Wife Adult Theater Confession
EXHIBITIONISM: Exhibitionist Hot Wife Strips on Stage
OUTDOOR SEX: Hot Wife MMF Bisexual BBC Nude Beach Ménage
BISEXUAL: MMF Bisexual Ménage
STUDENT/PROFESSOR: Earning Extra Credit: FFM Lesbian Student's Ménage
LESBIAN WIFE SEDUCTION: The Cuckold's Hot Wife and the Lesbian Stripper: Book 1
INTERRACIAL: The BBC, The Hot Wife and the Cuckold: Book 3
BIGFOOT: Desperately Seeking Sasquatch