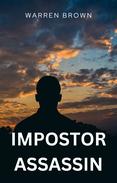 Impostor Assassin
by Warren Brown
Product Description:
A novel about a man willing to risk his life to save the world. Independent publishing is facing a new enemy. This new threat to authors, agents and publishers is everywhere.
The mega-corporation SWAMP has taken over the world and it is now taking over lives. A legion of assassins are on the hunt for the one person who can stop them, a hero with a vision to save writing and publishing in the world.
An army of SWAMP Assassins and Impostors keeps the world bowed on its knees under the Sceptre of SWAMP.
Can one man save publishing in a world controlled by SWAMP?
Every Author, Agent, Publisher is not safe from the tentacles of SWAMP Assassins.
Who can you trust, when anyone could be a SWAMP Assassin, even your own Son?
When SWAMP enters your life, it snuffs out your humanity.
Are you ready to immerse yourself in a SWAMP of evil and deception?
A novel teeming with ideas on the advancement of writing and publishing in a few years.
This novel stretches the limits of publishing and overcomes any barriers to Indie publishing.
A story filled with suspense and conspiracies. Read about the people and events which bring about the Renaissance of Independent book publishing in the world.
Every page of this thriller is brimming with innovations in book publishing.
A thriller novel overflowing with the most unique ways to publish your thoughts to the world.
A radical novel which can act as an inspirational tool for the future of global instant publishing.
A novel which puts back the vroom, vroom, vroom into publishing.
This novel with its twists makes the world of publishing exhilarating, inspiring and thrilling.
The world of publishing is explored and revealed in all its colors of fortitude, betrayal, excitement, enterprise and dynamism.