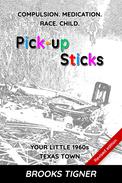 Pick-up Sticks
by Brooks Tigner
Publisher: Tunnel's End Press
Product Description:
Think the #MeToo, #HeToo problem new? Think again.
Cross "The Help" and "Ordinary People" on steroids and you get this ominous family tale from the Great Society era of the '60s. Its claws sink in slowly, but they lacerate the wounds America suffers today.
Mixing sweat-inducing scenes with laugh-out-loud passages, Brooks Tigner's Pick-up Sticks compels the reader towards its fatal but poignant conclusions about race, class and abuse. A first retroactive "WeToo" novel:
A widow with a five-year old boy in 1964 had little chance of getting hitched again in small-town Texas, but Cathy got lucky: she married a doctor and thus replaced the father figure her son Carey had lost the year before. Or so she thought.
He had a big house with a full-time maid, Cilla, and handyman Lamar, her son, who kept the yard impeccable between his other odd jobs.
Sev was sophisticated, cultured, disciplined, hard-working. And self-medicating: a darkening habit - feeding other, darker ones - whose tentacles spread out in sinister ways to envelope Lamar, others across the county's impoverished black community and, ultimately, Carey himself.
Only Cilla is witness to the evolving malaise. But it is Felicia, Lamar's girlfriend, who pieces it all together. She pays a high price for it, but is by no means the only who gets the short end of the stick...