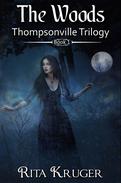 The Woods
Thompsonville Trilogy, #1
by Rita Kruger
Product Description:
I've been running for years, looking for a safe home, a place where no-one knew me.
From the moment I stepped off the bus, I suspected that Thompsonville was evil. It did not take long before I noticed the sickly children, the horrible school, the missing people, and of course, the tainted history.
I settled in the cabin in the woods, and soon strangers were knocking on my door, each in search of something else. An FBI agent. A man with dark desires. A witch with a death wish. And a serial killer.
Will I be able to hide my dark past from these people? Can I overcome all the dangers of this new town, or will Thompsonville be the death of me?
This terrifying and highly descriptive mystery, THE WOODS, is the first in the Thompsonville trilogy by Rita Kruger.
Warning: It boasts romantic scenes, strong language and horrific violence. Not suitable for children!