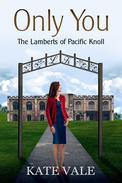 Only You
The Lamberts of Pacific Knoll, #2
by Kate Vale
Product Description:
High school counselor and middle daughter in the Lambert family, Debra Lambert discovers a student bleeding from an attempted suicide. She doesn't know what to think, when her boyfriend, a professor at Lambert-Knoll College, Sawyer Quinlan, is suspected of having been involved.
Lawyer Todd Prescott is determined to get to know Debra; unfortunately for him, she's already spoken for. But when she breaks up with Sawyer, Todd's hopes soar.
As much as she's attracted to him, Debra's hesitant to trust Todd to guard her heart any better than other men who have let her down. Moreover, she's determined to prove she's a strong woman, capableto taking care of herself.
But Todd becomes as frustratingly protective as Debra's brothers. Does he risk driving Debra away by trying to protect her from a stalker? And how can Debra find a way to stand on her own two feet, without losing her chance at real love?