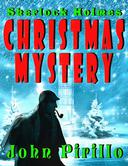 Sherlock Holmes Christmas Magic
Sherlock Holmes, #10
by John Pirillo
Product Description:
The holidays are never an easy time for the Baker Street friends and this one proves no different.
A gathering to celebrate the holidays is horribly broken as one by one; all the Baker Street friends vanish in a blaze of pure white light.
"Vanished!"
How will this mystery be solved? Will the villain behind the abductions be brought to justice?