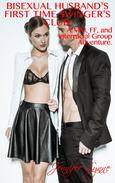 Bisexual Husband's First Time Swinger's Club: A MM, FF, Interracial Group Adventure
Bisexual Husband Series
by Jennifer Lynne
Publisher: JLE Publishing
Product Description:
Hot, sexy couple, Will and Kristen have always fantasized about exploring their bisexual sides in an elite swinger's gathering.
So, with his hot wife suitably dressed like a bimbo for the occasion, Will arranges for them to attend an exclusive singing club.
there, they meet seasoned seducers, Peter and Joan, who take the first time couple under their wing and treat them to the most amazing bisexual delights upon the huge bed filled with naked, cavorting couples.