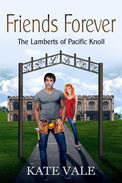 Friends Forever
The Lamberts of Pacific Knoll, #3
by Kate Vale
Product Description:
Chris Lambert and Theodora Jameson have lots in common. He wants to concentrate on building houses and refurbishing furniture, a creative endeavor much like Teddy's love of carving and stained-glass artwork. They've been friends forever, but never connected romantically, something Teddy has dreamed of since she was a teenager.
It takes a series of disasters for clueless Chris to take a good hard look at Teddy. He begins to see beyond her on-the-job skills, to the kind of woman she is—and realizes he's missed the boat in never asking her out.
But when Chris finally gets up enough nerve to ask for a date, Teddy mistakes his interest for a maneuver to control her and make her a partner in his construction firm. When she turns him down, Chris is forced to rethink how to convince Teddy that he's serious about deepening his relationship with her.