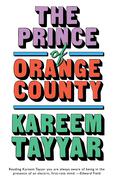 The Prince of Orange County
by Kareem Tayyar
Publisher: Pelekinesis
Product Description:
It's the summer of 1986 in Orange County, California, and ten-year-old Thomas Kabiri's father has just left for Iran to attend a funeral. With no school in session for the next few months, and Thomas's mother working two jobs to keep the family afloat, Thomas can live like Fountain Valley's answer to Huck Finn, spending his unsupervised days playing basketball at the local park, where an assorted cast of local characters come to shoot hoops, argue about pop culture, and tell tall tales so grandiose they would put Walter Mitty to shame.
However, everything changes when Thomas befriends Earl Lewis, an ex-professional basketball player who has arrived in town to look for a former teammate who vanished ten years earlier. As Earl slowly becomes the second father Thomas needs at this point in his life, Thomas, with his encyclopedic knowledge of the Southern California playground basketball scene, helps Earl in his search to find his long-lost friend. As Thomas and Earl's quest takes them all over Southern California, Thomas slowly begins to learn about the world that exists beyond the basketball court, and what he ultimately wants his place in that world to be.
The Prince of Orange County is, like Nick Hornby's About A Boy and Sherman Alexie's The Absolutely True Diary of a Part-Time Indian, a work that captures the sometimes funny, sometimes painful, always colorful experience that is growing up, and it does so with an unwavering affection for its large and diverse cast of characters.