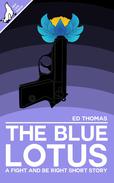 The Blue Lotus
Fight and Be Right, #3
by Ed Thomas
Publisher: Sea Lion Press
Product Description:
In Fight and Be Right and The World of Fight and Be Right, Ed Thomas explored the strange parallel history that resulted from the unlikely political success of Winston Churchill's father. There are many stories to be told in this world. This is one of them.
It's 1934, and as war rages across the globe the city of Shanghai preserves an uneasy neutrality between the rival alliances- until a young journalist is brutally murdered. Can the killer be brought to justice, or is the truth about his death too dangerous to be exposed?