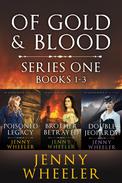 Of Gold & Blood - Series 1 Books 1-3
by Jenny Wheeler
Publisher: Happy Families Ltd
Product Description:
In California's Gilded Age, all that glitters can be love… or murder.
California, 1868.
Three brothers, born to three different mothers. Their father, a Hong Kong Taipan, knighted for his services to the English King in the First Opium War.
When their father Sir Robert dies, the two youngest return to their maternal families in Sydney and Boston; the eldest sets off to make a new family fortune in California.
Seventeen years later, reunited as men, one is a widower, one an ex-Union soldier haunted by war memories, and 'Sir John' is a rising property and gold magnate in the West.
Together in the proverbial Promised Land, they'll learn to trust again, to heal the past and build a future for themselves and the strong women who will come to hold their hearts.
But the rough golden frontier breeds more danger than delight…
Lose yourself in the timeless intrigue of California frontier life,
1000+ pages of heart-wrenching romance and pulse-pounding suspense.
The Of Gold & Blood bundle features the first three books in this historical mystery series. If you like enduring romance, captivating characters, and Wild West whodunits, then you'll love Jenny Wheeler's compelling page-turners.
1000 pages of heart-wrenching romance and pulse-pounding suspense