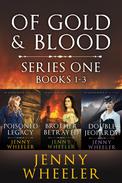 Of Gold & Blood - Series 1 Books 1-3
by Jenny Wheeler
Publisher: Happy Families Ltd
Product Description:
In California's Gilded Age, all that glitters can be love… or murder.
California, 1868. The three Russell brothers have been separated by time and tragedy. When they reunite in a proverbial promised land, they must heal the past and build a future for themselves and the strong women who hold their hearts. But the rough Western frontier breeds more danger than delight…
The Russell clan find themselves at the center of mysterious deaths and murderous adversaries. Unwilling to let corruption ruin their dreams of a prosperous future, can they solve these deadly crimes before they're fitted for their own pine boxes?
The Of Gold & Blood bundle features the first three books in this historical mystery series. If you like enduring romance, captivating characters, and Wild West whodunits, then you'll love Jenny Wheeler's compelling page-turners.
1000 pages of heart-wrenching romance and pulse-pounding suspense