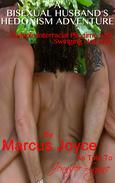 My Bisexual Husband's Hedonism Adventure: Multiple Interracial Playtime with Swinging Hot Wife
by Jennifer Lynne
Publisher: JLE Publishing
Product Description:
An adventurous couple book a sexy vacation to a tropical swinger's resort, determined to make new friends and push the boundaries of their already adventurous love life.
There, they meet up with two like minded couples, and between the sexy half-dozen, a lot of exploring and trying out of new things is done before it is time to leave.
Jamie has already planned something very special for her husband - his very first bisexual experience with a hot black guy...
8,400 words of hot, steamy bisexual action set in an exotic climate!