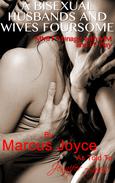 A Bisexual Husbands and Wives Foursome: MMFF Ménage with MM and FF Play
by Jennifer Lynne and Marcus Joyce
Publisher: JLE Publishing
Product Description:
Bisexual Michael and his hot wife Trina pay a visit to her boss's home for a night of sexy fun and games. There, they are joined by Mr. Jenson's incredibly hot wife, Ginger, and all four indulge their passions for exploring their bisexual sides with each other. It is a night of firsts for both Trina and her boss, as they are introduced to the delights of playing with a woman and a guy, respectively.
The hot foursome switch partners, and play in pairs, threesomes and, of course, one erotic foursome for an earth shattering climax that is definitely not to be missed.
This is 8,000 words of incredibly steamy bisexual, MM and FF action.