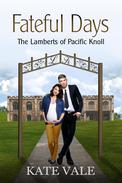 Fateful Days
The Lamberts of Pacific Knoll, #4
by Kate Vale
Publisher: North Cascades Press
Product Description:
Eden Brinker is eager to rejoin the work force now that her children are in school. Then she learns she's pregnant. Her mixed feelings about adding another child to their family turn to apprehension when she learns her baby may carry a genetic marker for a fatal disease.
Meanwhile, someone is stealing scholarship funds from her family's college foundation right out of the office where her husband, Hale, works. Could Hale be the the guilty party? She knows how worried he has been about money.
Under the dark clouds of possible embezzlement and a complicated pregnancy, will Hale be able to trap the thief and prove himself innocent? Can the Brinker marriage survive the dilemma of whether to carry to term a child predestined to a tragically short life?