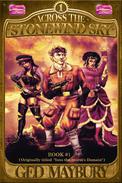 Across the Stonewind Sky
Stonewind Sky, #1
by Ged Maybury
Product Description:
"Ged Maybury is a master wordsmith with wonderfully creative use of language, which all lovers of good writing will enjoy. It's written with wonderfully crafted and well-rounded characters, and is a rollicking good piece of entertainment. I read this book in one sitting! Plot-twists and splendid clothing and gadgetry that will appeal to everyone. If you like good steampunk fiction, this is a must-read!" - Kat Douglas, NZ.
Jilted at the altar and determinedly British about it, Rod Hoverrim embarks upon the adventure of a lifetime – following his nation's bravest (and oft-times stupidest) men 'Into the Storm's Domain'. First hijacked, then attacked by sky-pirates (twice!) he is soon trapped by evil Pirate-Queen "The Black Bitch". As he fights her for the lives of her prisoners, her rancid airship crashes upon the Skyland of Vicaria – lair of idiot scientist Victor Vicario: well known for injecting his visitors with his latest (deadly) concoctions. Knowing he's in desperate straits, Rod makes several hasty friendships ... only to discover that this manic micro-world hides a veritable ship-ton of mysteries!