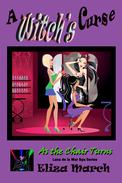 A Witch's Curse : Luna de la Mar Salon & Spa
As the Chair Turns, #4
by Eliza March
Product Description:
Delia's family is back in town, and she's ready for explanations. Or is she? Preventing the Sea Witch from killing her is her first priority.
Aelric made Delia promises she intends to hold him to...as soon as he shows up and she can keep him around long enough for an explanation., even if it comes down to handcuffing him in order to get answers... Hmm, it may come to that. But would she? The idea begins to sound better and better, especially when Delia recalls Ric's last kiss. Now, if only his evil stepmother and his jealous half brother would stop making Delia's life miserable.
This season, a sexy Frankie and a confused Delia have a few mysteries to solve, primarily searching for answers to his curse and her dilemma, while, keeping Frankie's problem a secret and Delia alive.