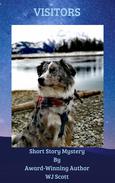 Visitors
by WJ Scott
Publisher: Wendy Scott
Product Description:
Twelve-year-old Brody, and his kid brother, are sent to stay with their reclusive Aunt Sally, when their mom falls seriously ill. But, they soon discover things are not as they appear, and a strange phenomenon is happening in the small retro town.
What mystery is Tucker's Mountain hiding?
Unsure of who or what they can trust, the boys embark on a hunt for answers that reveals more than they bargained for.