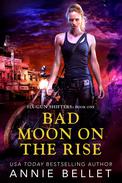 Bad Moon on the Rise
Six-Gun Shifters, #1
by Annie Bellet
Publisher: Doomed Muse Press
Product Description:
From the world of The Twenty-Sided Sorceress comes a bold new Urban Fantasy series!

Tiger-shifter. Bounty hunter. Vigilante for hire.

Kira Jones solves her problems with a big gun and she rarely has the same problem twice.
But not all problems can be solved with a bullet, and some cases are more complicated than others...

This is the first book in the Six-Gun Shifters series following Alek's sister Kira and her crew on their adventures in vigilante justice. This series stands entirely on its own.