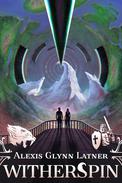 Witherspin
Starways, #1
by Alexis Latner
Publisher: Avendis Press
Product Description:
Nia Courant is an interstellar lawyer. Early in her legal career, on the other side of the stars, she made a disastrous decision. But she's worked her way back to success in the interstellar city-state called Wendis. Unknown to Nia, the past she's tried so hard to live down has come alive again. It's reaching out to find her.
Gyle Night Martan is an exile in Wendis. For him, the city is an uncomfortable port in a deadly political storm that overtook his life and nearly ended it. Martan is a man with a pleasant façade concealing a mystery. At the core of the mystery there's something dark and dangerous. He knows his past will catch him if it can and destroy him if it does.
When things start going wrong around them in Wendis, Nia and Martan must cooperate to save each other from present danger and the shadows of the past. Nia is Martan's best hope. Martan is Nia's best ally. He may also be her worst nightmare.