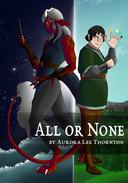 All or None
Star Stories, #1
by Aurora Thornton
Product Description:
In a world where everyone has a soulmate, uniquely powerful mage Royiora and reluctant assassin Kalo collide in the worst of ways.
Royiora Daralkaen, the only mage alive able to use all five kinds of magic, has a near idyllic childhood in the country of Porescalia - before war breaks out with their antagonistic neighbors, Kloria.
Kalo Porla, a naturally magic-proof individual known as a Null, is trained to be as an assassin by the authoritarian empire known as the Domain.
When Kalo and his partner assassin are sent to kill a mage and his apprentice, it starts a journey neither Kalo nor Roy are prepared to begin.