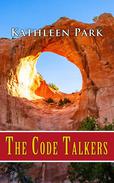 The Code Talkers
by Kathleen Park
Publisher: Balkan Press
Product Description:
An unsolved murder. A mysterious fire. And a bizarre dancing figure promising death.
Geneva Granger's husband died under suspicious circumstances three years ago. She's done her best to move on without him, but when an acquaintance sends a cryptic message indicating that he has new information regarding her husband's death, Geneva can't ignore it. Venturing into Navajo Nation, she reconnects with old friends and seeks the truth—but the people she questions end up dead.
FBI agent Justin Fox didn't expect an arson-murder investigation on a Navajo reservation to embroil him in a far-reaching conspiracy. Nor did he expect to encounter Geneva, a strong-willed woman with bewitching eyes, bent on solving her late husband's murder no matter the cost—and spraying gunfire to protect her life.
Geneva's sixth sense, either a blessing or a curse, gives her clues and flashes of insight, but can't keep her out of harm's way—or prepare her for Justin's disarming smile, which catches her completely off-guard. When she's run off the road into a ravine and nearly killed, she knows she's getting close to the secret that cost her late husband his life. Geneva is determined to learn the truth, but powerful people will stop at nothing to silence her...
Uncover the mystery of The Code Talkers today!