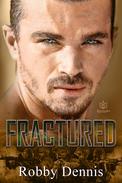 Fractured
by Robby Dennis
Publisher: Boroughs Publishing Group
Product Description:
NO COMING BACK FROM THIS
Ex super model turned homestead owner, Cass Riley is prepared to meet her new major lifestyle challenges head on. Her little piece of paradise she calls The Tree of Life, is the solace she needs after surviving the cutthroat world of high fashion.
What she isn't prepared for is having a grumpy, sexy, irresistible man as a temporary lodger. As annoying and closed-off as he is, Sam Howard brings out something in Cass she's missed - real emotions.
Sam is recovering from a serious military injury and his future holds a path from which he'll never return. Complicating his plans is his growing desire for the beautiful, warm, vibrant woman on whose homestead he's recuperating.
He can't resist her, yet all he can offer her is heartbreak.
Falling in love is one thing. Making it last is another.