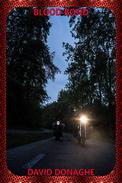 Blood Bond
The Mike McDonald Action Adventure Saga, #3
by David Donaghe
Product Description:
When Mike McDonald left Nebraska he thought that he had left the blood and violence behind. After having a tryst with a young college student in a motel room west of Chicago, Mike stops for gas before riding east to see his brother Johnny in New York City. His thought was to spend some quality time with his brother and enjoy some peace and quiet, but when he sees the ghost of his dead wife Sharon standing in front of his motorcycle, it throws his plans into a tail spin. She says five words. "Hurry Michael. Johnny needs you." Mike calls his brother Johnny's cell phone and Johnny's girl friend answers. She tells him that someone put a bomb under Johnny's car and that Johnny is in the hospital in a coma.
After contacting, Big Al the national president of the Green River Boys motorcycle club Mike rolls hard for New York City where once again he goes to war with some Irish thugs and the Italian mob. After the last body hits the floor in New York City, Mike spends the holidays bonding with his brother and his girl friend Connie along with the upstate New York chapter of the Green River Boys and then heads south to Florida looking for a place to settle down. Will he be able live a life of peace or once more get caught up in a web of violence and bloodshed.