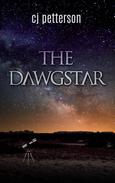 The Dawgstar
by cj petterson
Publisher: Lyrical Pens Publishing
Product Description:
THE DAWGSTAR is a suspense/thriller with a touch of romance.
Protagonist MIRABEL CAMPBELL is a geneticist and amateur astronomer who wished for more adventure in her life. Someone should have told her to be careful what you wish for, because the mysterious twinkle she spots in the night sky catapults her into the treacherous world of international intrigue.
Mirabel is a little flawed—she's no longer a svelte twenty-something, hasn't been in a real relationship for a long time, and is a bit of a nerd. She's also sassy, clever, loyal, and determined to find who killed her friend and to stop the ticking of her personal doomsday clock.
ROBERT O'SULLIVAN, aka "Sully," is an exciting hero, a ruggedly handsome CIA agent with a bit of an Irish lilt in his words. The CIA thinks what Mirabel saw is a nanosatellite that the government is secretly testing. Worried her sighting could go public, Sully is sent to investigate. He draws the assignment because Mirabel is his ex-wife, the woman he still loves. On the flip side, Sully's a bit of a bad boy and a liar—all part of the job he says.
NIGEL SAINT JOHN is an international assassin hired by SOUJIRO ITOH to eliminate the perceived threats to his plan to exact revenge on the North Korean regime. Unbeknownst to everyone, Saint John serves two employers, one more anonymous than the other.
SOUJIRO ITOH is a sociopath with a twisted sense of justice. He wants the U.S. government to include in a proposed arms treaty with North Korea a requirement that the Pyongyang government apologize for wrongs done to Japanese citizens that date back to World War II. Itoh also has launched a secret nanosatellite, a bioweapon with which he threatens destruction of one of the world's most important food crops if his demands are not met.
MIIKO ITOH is a drug-addled ninja under the control of her brother, Soujiro Itoh. Soujiro uses her to help carry out his devious plans, including miscellaneous assassinations.
Brought together by a common peril, Mirabel and Sully rekindle their love in the midst of international, political gangsterism and 21st Century technology, where a sociopath's money can hire an assassin, turn friends into traitors, and threaten the world with a bioweapon.
Sensuality level: Behind closed doors.